News
Croesus Gold Corp. Signs Final Purchase Agreement for 100% Interest in Past-Producing Kay Mine Located in Yavapai County, Arizona, USA
November 19, 2018
November 19, 2018 -Toronto, ON Croesus Gold Corp. ("Croesus" or the "Company") is pleased to announce it has executed a final purchase agreement with Silver Spruce Resources Inc. (the "Vendor") to acquire 100% ownership of approximately 360 acres of patented and unpatented claims covering and surrounding the past-producing Kay mine ("Kay Mine"), located in Yavapai County, Arizona, approximately 50 miles north of Phoenix. The Kay Copper Company, among others, produced Cu-Au ore on the property intermittently from 1916 until 1956, with production grades ranging from 5.7% to 9.1% copper, and 2.0 to 2.5g/t gold.
Exploration conducted from 1972 to 1982 by Exxon Minerals Company, a subsidiary of Exxon Petroleum, indicates that substantial mineralization exists down dip and potentially along strike from the previously producing mineral deposits. The Kay Mine consists of 10 patented mining claims which cover the bulk of the Kay mine deposit. Exxon Minerals estimated that "the tonnage of proven and probable ore (using a cut-off grade of 2% copper equivalent) is 6.4 million short tons. Average grade is estimated at 2.2% copper, 3.03% Zn, 1.6 ounces per ton Ag, and 0.082 ounces per ton Au." At metals prices as of November 2018, this would be equivalent to 1,650,000 ounces of gold at a grade of 9.1g/t AuEq; the copper equivalent grade would be 5.2 %.
The historic estimate was based upon underground sampling of mine levels and surface drilling of 26,000 feet. The historic estimate is taken from a report by Exxon Minerals titled "Kay Mine Massive Sulfide Deposit" by M.L. Fellows, 1982. The report uses the categories of "proven and probable ore", rather than CIM categories. Croesus' QP has not done sufficient work to classify the historical work as a current resource, and is not treating the historical estimate as a current resource. Croesus is currently digitizing the historic mine level plans, and estimates that an initial drill program of at least 10,000m will be required to verify and upgrade the historic resource.
The deposit is open at depth and along strike. Sampling of the historic production piles, completed in October 2018 by Croesus, returned the following highlights: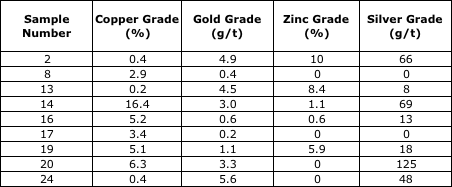 The terms of purchase of the Kay Mine include a debt assumption of approximately $630,000, cash payments of $150,000 and share payments of $250,000 (all amounts in Canadian dollars).
"The Kay Mine acquisition aligns well with Croesus' strategy of acquiring historic metal resources in mining friendly jurisdictions. This particular asset differs from Croesus' other gold project, Sugarloaf Peak, as it is a high grade (9g/t AuEq) VMS deposit, versus a lower grade open-pit, heap-leach target. This acquisition increases the Company's historic gold resources from 1.5M ounces to over 3M gold equivalent ounces and is the first past-producing mine to be included in our project portfolio", stated Paul Reid, Croesus' Executive Chairman. "Croesus will continue to seek out accretive acquisitions, particularly while the metals market remains historically weak", he added.

The transaction is subject to regulatory approval and the closing date is slated for on or before January 30, 2019.